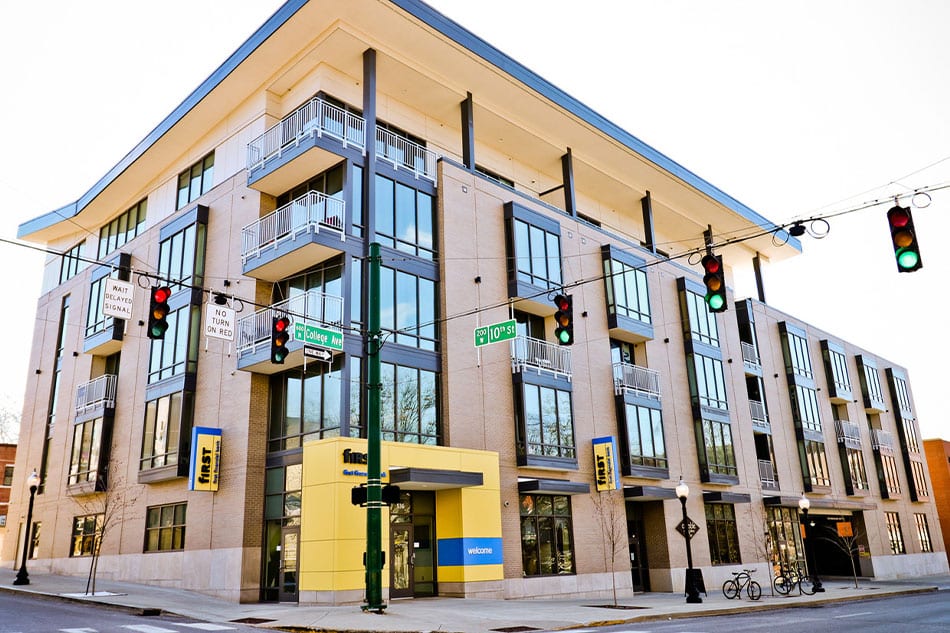 Multiversity Housing Partners Acquires 10 North And The Crest In Bloomington, IN
Bloomington, IN June 15, 2021 — MultiVersity Housing Partners (MVHP) has acquired two student housing properties in Bloomington IN, located steps from the campus of Indiana University. MultiVersity Property Management (MVPM) will be overseeing the management and planned improvements of these class A properties known as 10 North and The Crest.
The properties were built in 2010 and 2014 and consist of studio, one and two-bedroom apartments as well as two retail parcels that are occupied by a bank and bakery. The modern apartments feature great views of Bloomington and optional balconies and penthouse suites. The properties are 98% occupied.
MultiVersity Property Management will bring their forward-thinking approach and expertise in property management to maintain the assets as Bloomington's premier student housing options.  As part of the property improvements, MVPM will be adding an on-site office and leasing area, study space, private fitness rooms and a dog wash station. Other plans include renovating the hallways, adding Luxer One package lockers, new signage, and exterior improvements. Students will be thrilled with the new "smart" units and in-unit fitness features that MVPM plans to introduce for the 2022 school year.
10 North and The Crest residents will be pleased with the hands-on approach of the MVPM team. MVPM prides itself on attention to detail and best in class customer service. An innovative and exciting resident retention platform will be implemented immediately.
"MVPM is excited to enter the Bloomington IN market with these excellent assets. This is just the beginning for MVPM at IU" Christopher Feeley, Managing Partner of MultiVersity Housing Partners and MVPM. "We look forward to enhancing these great properties by executing our exciting capital improvement plan and bringing our innovative approach to the Bloomington market" Anthony Magnelli, Principal of MultiVersity Housing Partners and MVPM.
MultiVersity Property Management is the property management division of MultiVersity Housing Partners. MVPM's mission is to become the recognized leader in its targeted markets for property management services. The guiding principal of MVPM is to treat each property as its own, and to remember that each property is its own individual business first and foremost.
MVPM operates with a total focus on its managed properties and owners/customers. MVPM provides a solid offering of services that fit the needs of today's resident (whether a resident in a market rate apartment or student housing property) while at the same time focusing on owner requirements and expectations.
###
If you would like more information about this topic, please contact Anthony Magnelli at amagnelli@mvhp-llc.com.