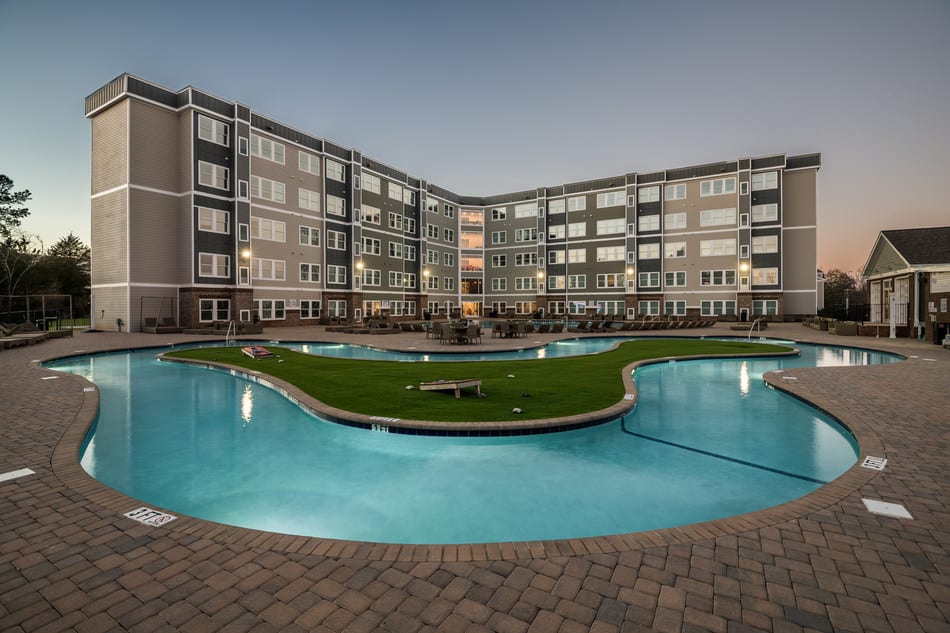 Multiversity Housing Partners Acquires The Ridge At Clemson – A 616 Bed Property In Clemson, SC
CLEMSON, S.C., March 25, 2020 /PRNewswire/ -- MultiVersity Housing Partners (MVHP) has acquired The Ridge, located near the campus of Clemson University. MultiVersity Property Management (MVPM) will be overseeing the management of this 616-bed, Class A+ purpose build student property, as well as all planned property improvements.
The Ridge was constructed in 2018 and is made up of two-bedroom/two-bathroom flats and four-bedroom/four and a half bath luxury townhomes complete with attached garages. The property features a resort style swimming pool, lazy river, a 30 foot LED video screen, dog park, clubhouse, private shuttle, and fitness center. Unit interiors (both Townhomes and stacked units) have faux wood flooring, keyless entry, stainless steel appliances, a large kitchen with granite countertops, and are fully furnished.  The property is 96% leased for the 2019-20 lease term.
MultiVersity Property Management will bring their forward-thinking approach and expertise in property management to maintain the assets position as Clemson's premier student housing option.  As part of the property improvements, MVPM will be redesigning the clubhouse and fitness center, adding additional fitness equipment, an outdoor kitchen, a redesigned office and leasing area, and enhancements to the study areas.
The Ridge Clemson residents will be pleased with the hands-on approach of the MVPM team.  MVPM prides itself on attention to detail and best in class customer service.  An innovative and exciting resident retention platform will be implemented immediately.
"We are thrilled to enter the thriving Clemson market and to bring our hands-on approach and expertise to this premier student asset," Christopher Feeley, CEO and Managing Partner of MultiVersity Housing Partners and MVPM.  "Our residents and partners can look forward to an all-in approach from the dynamic MVPM team.  We pride ourselves on being forward thinking and providing best in class customer service," Anthony Magnelli, Principal of MultiVersity Housing Partners and MVPM.
MultiVersity Property Management is the property management division of MultiVersity Housing Partners.MVPM's mission is to become the recognized leader in its targeted markets for property management services. The guiding principal of MVPM is to treat each property as its own, and to remember that each property is its own individual business first and foremost. 
MVPM operates with a total focus on its managed properties and owners/customers. MVPM provides a solid offering of services that fit the needs of today's resident (whether a resident in a market rate apartment or student housing property) while at the same time focusing on owner requirements and expectations.