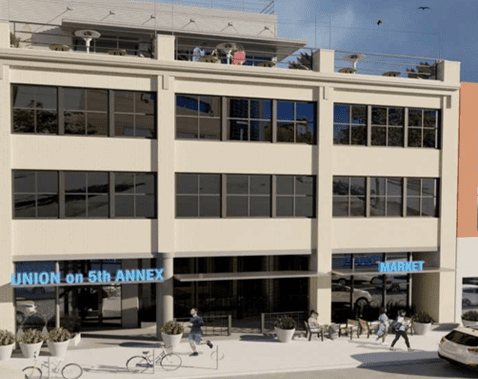 Multiversity Housing Partners Adds Another Fifth Ave Asset To Its Growing Pittsburgh Portfolio
PITTSBURGH, PA August 24, 2021 — MultiVersity Housing Partners (MVHP) has acquired, an apartment building with ground floor restaurant space on Fifth Ave in Downtown Pittsburgh PA.  MultiVersity Property Management (MVPM) will be overseeing the management and planned improvements of the asset which will be known as Union Annex.
The property was renovated into apartment units and a ground floor + rooftop terrace restaurant in 2014. The property consists of one and two-bedroom apartments in addition to the restaurant space. The apartments feature great city and PPG Arena views.
As part of the property improvements, MVPM will be adding 4 penthouse units with large private terraces that will feature stunning city views and high end finishes in place of the former rooftop terrace restaurant space. MVPM will also be renovating the existing units and adding extra bedrooms to some of the existing floorplans. Other improvements include; new signage, exterior improvements, a fitness center, common area improvements and more.
MVPM, has hired David Glickman of Pittsburgh's Newmark retail team to market the ground floor restaurant space and find a new restaurant tenant.
"MVPM is so excited to be part of this up and coming downtown Pittsburgh neighborhood that we decided to double down" Christopher Feeley, Managing Partner of MultiVersity Housing Partners and MVPM.  "We are glad to be a part of this up-and-coming downtown Pittsburgh neighborhood that we decided to double down. New rapid transit, a world class eye institute/hospital, Duquesne University's new medical campus and of course the Pittsburgh Penguins Centre District development (featuring the new 26 story FNB tower, amphitheater and more) are all within walking distance of Union Annex and our Union on Fifth assets" Anthony Magnelli, Principal of MultiVersity Housing Partners and MVPM.
MultiVersity Property Management is the property management division of MultiVersity Housing Partners.  MVPM's mission is to become the recognized leader in its targeted markets for property management services. The guiding principal of MVPM is to treat each property as its own, and to remember that each property is its own individual business first and foremost.
MVPM operates with a total focus on its managed properties and owners/customers. MVPM provides a solid offering of services that fit the needs of today's resident (whether a resident in a market rate apartment or student housing property) while at the same time focusing on owner requirements and expectations.
###
If you would like more information about this topic, please contact Anthony Magnelli at amagnelli@mvhp-llc.com.